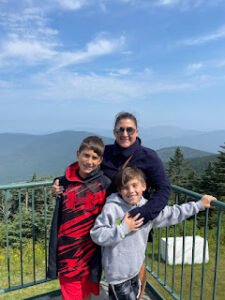 Hi! My name is Jessica Uebel and I have been teaching since 2003. I am currently a Kindergarten teacher in the Northport-East Northport School District. I taught second grade and third grade as well. I graduated from St. Joseph's College with a Bachelor's Degree in Child Study and a minor in Human Relations. I have my M.S.Ed in Literacy, from L.I.U. In addition to my Masters Degree, I've completed over 90 hours of graduate courses. I consider myself to be a life-long learner! I am passionate about my work and the work being done in this profession.
If you can't find me in the classroom, chances are I am on a soccer, football or lacrosse field. My two sons keep me very busy! They are 11 and 9 years old. We love to go to the beach, travel to the mountains, and snowmobile. I am an avid reader and Netflix binger. I look forward to meeting and working with you!
Check out my course offerings here:
(3 credits/45 hours) In service only Instructor: Jessica Uebel

juebelliips@gmail.com

Course Description: What is the Science of Reading? This very on-trend hot topic in education has been filtering into schools across the country via the podcast, "Sold a Story" by Emily Hanford. It has teachers everywhere questioning methods, philosophies, programs, texts and publishers in all things related to learning how to read. This course will dive deep into the expose podcast and discover the history of why schools and teachers taught reading the way they did, and more importantly, where do we go from here? How do we take the science behind the way humans learn to read and apply it to the classroom appropriately? Teachers will share and reflect on their own methodologies, research programs, and design lessons and activities.This course is best suited for educators in Kindergarten through Fifth Grade.

(45 hours/3 credits)  In service course only Instructor:  Jessica Uebel      

Juebelliops@gmail.com

Course Description: "Reading Comprehension Revisited" is a podcast by Natalie Wexler. This podcast dives into the history of how teachers taught reading comprehension. It shares the research that shows how students comprehend. Similar to "Sold a Story", this is an expose that brings awareness to the importance of how children learn to read-how they comprehend what they are reading. In this course teachers of all grades (K-12) will learn the history of how and why schools chose the programs and methods they did to teach reading comprehension. We will explore the current practice that is on trend-The Knowledge Matters Campaign. Teachers will explore and engage in discovering the role of knowledge-building in the classroom. Teachers will share and reflect on their own methodologies, research programs,and design lessons and activities.

Taken from

www.responsiveclassroom.org

,

"Interactive Modeling is a straightforward, quickly paced process that's effective for teaching children any academic or social skill, routine, or procedure that you want them to do in a specific way (whether for safety, efficiency, or other reasons). One of the essential practices of the Responsive Classroom approach to teaching elementary school children, Interactive Modeling can be used by any adult anywhere in school at any time of year."

Teachers will learn the steps for Interactive Modeling, strategies for success, ideas for where to use in your lessons and routines. Applicable for teachers K-12.