My name is Alison Incarnato, I am very happy to see your interest in my course!  I have been teaching Physical and Health Education since 2012.  I have taught for NYCDOE, Cold Spring Harbor School District and now I currently teach within the Plainview-Old Bethpage School District teaching Middle School Physical and Health Education. I attended Adelphi University where I earned my Bachelors of Education in Physical Education and Health Education.  I also earned Masters from Adelphi University in Childhood Education Grades 1-6 and Students with Disabilities Grades 1-6 later getting my extension for Grades 7 and 8.  
Besides teaching, I love to coach volleyball, swimming, basketball and lacrosse at various levels from Varsity to Middle School.  I am a Certified Lifeguard Trainer and run courses for my school district. I am an Ocean Rescue Guard during the summer months, I always need to be active!  I am very passionate about my career and share my passion with my students and players in a variety of different ways whether in the gym, on a court or field, or even in a pool. You can always find me with my  students having fun, teaching about how to live healthy and sharing my knowledge.  
Feel free to look at the other courses that I offer and contact me with any questions you may have.
Check out my course offerings:
Adapting Backyard, Lawn and Beach Games for Physical Education Curriculums
*NEW COURSE SPRING 2022
ON-LINE (3 CREDITS/45 HOURS) In-Service credit only
Course Description: Different types of physical activity trends come in and out of popularity throughout time. Keeping student engagement high is important to student participation in physical education classes. In order to keep engagement high physical education teachers must be on top of the latest fitness and physical activity trends that are popular with our students. Backyard, Lawn and Beach Games are growing quickly in popularity with school age children so how as teachers can we incorporate these popular activities into our physical education curriculum? 
The Biggest Day in PE – Planning for Field Day
*NEW COURSE SPRING 2022
ON-LINE (3 CREDITS/45 HOURS) In-Service credit only
Course Description: All eyes are on you, it's Field Day. Planning a field day can be extremely stressful and a huge undertaking for physical education teachers, especially if you are the only Physical Education teacher at your building. This course will give you the tools to create a field day that will be engaging, fun and an event that your students will remember for years to come.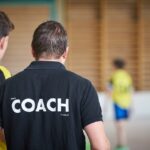 Coaching Tips, Techniques and Strategies for Middle School – Part and Whole Coaching
*NEW COURSE SPRING 2022
ON-LINE (3 CREDITS/45 HOURS) In-Service credit only
Course Description: What is the job of a middle school coach? Many teachers are coaches on some level. It is important for coaches to have a basic understanding of the sport they are coaching. You will find that coaches tend to have played the sport they are coaching at a middle school level since they are teaching fundamental skills to learn how to play the sport for some student-athletes on the team who may have never played the sport before. This course  will take a look into coaching tips, techniques and strategies to make any middle school program successful.